Wrapping up our fifth gentleman usher, Ambler from The Devil is an Ass and Pug/De-vile who steals his things and takes his job.
There are two references to Pace, one when Fitzdottrel shows Merecraft his new man, Pug/Devil, and two, when Lady Tail-bush is instructing De-vile in his duties and he answers "a settled, discreet Pace, Madam. "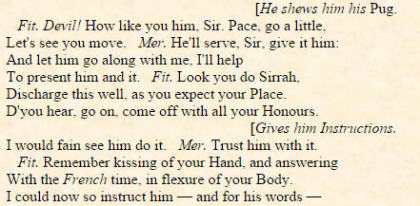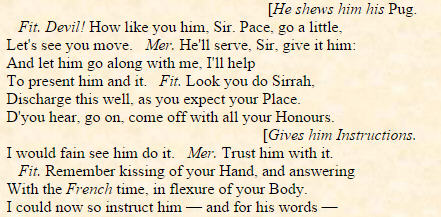 A gentleman usher walked before the noble person they served, and bare-headed out of respect, as has been discussed repeatedly on these pages. Remember in The Widow's Tears Argus the gentleman usher is asked to pace, and he "stalks."  Also recall my earlier post, Hamlet's Feet where I surmised the constant amble reference is to poetic meter, as amble is a specific horse gait, and poetic meter had been equated in literature with different gaits.  The gentleman ushers we've encountered along the way have a double meaning, I believe. one meaning points to Shaksper as servent/usher to Vere. The second meaning is the gentleman usher/noble relationship as a metaphor for a discreet poet/patron relationship. Discretion (secrecy) and Pace (meters) are the hallmarks of the gentleman usher.  Ambler as gentleman usher to Lady Tail-bush is telling the story of Vere as discreet poet to his patron, Queen Elizabeth. I think this interpretation fits all the evidence I've presented so far. It also fits the evidence yet to come.
Moving on apace –


Act V. v.
 Fitzdottrel (Vere), angry at Pug asks "Do you think to gull me with your Æsop's Fables?" We've encountered Shaksper as Æsop before in Poetaster and John Davies' Scourge of Folly here.
Satan is quite critical of Pug upon his return to Hell.
"A Devil Put in a body, will for ever be A scar upon our Name."  Act. V, vii.  Nobody does it like Jonson.
In the final scene, Act V, sc viii,  Merecraft informs Lady Tail-bush that De-vile robbed Ambler. Jonson manages a banquet reference in there.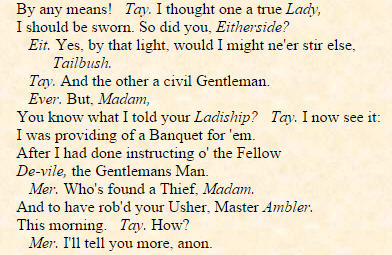 more anon, indeed!
There is so much I could present on Devil.  But the topic of this "Usher Series" of posts calls us forward.  I must keep pace.
November 15, 2014 1 Comment