An earlier post, "Cover Your Head" discussed the various references to a gentleman usher 'bare-headed before' in various places in the literature. I argued there that the Droeshout portrait's bare head is reference to these earlier mentions of a gentleman usher preceding bare-headed before their master.
There's another reference in the literature that Rambler has unearthed. The gentleman usher in Chapman's The Widow's Tears is named Argus, a name Gabriel Havey connected to Vere. Rambler discusses Argus in The Widow's Tears here.
In the scene below, the Governor asks Argus if he is one of your ladyship's followers. He explains, "No… I go before her."  The Governor then turns that into a specific fore-head joke.
Governor. Well said, o' mine honour! A good significant fellow,
i'faith! What is he? He talks much; does he follow your ladyship?

Argus No, an't please your honour, I go before her.

Governor. A good undertaking presence; a well-promising fore-head! Your gentleman usher, madam?

Eudora. Yours if you please, my lord!

Governor. Born I'th' city?

Argus.  Ay, an't please your honour, but begot i'th' Court.

Governor.  Tressel-legged?

Argus.  Ay, an't please yor honour.

Governor .  The better; it bears a breadth, a makes room o' both sides. Might I not see his pace?

Argus. Yes, an't please your honour.

Argus stalks
(V,iii,323-335)
I've updated the Droeshout graphic to include this new reference. The prominence of Shakespeare's forehead in the portrait has long been noted.  I think we have a new adjective to describe Shakespeare's fore-head.  It is "Well-Promising."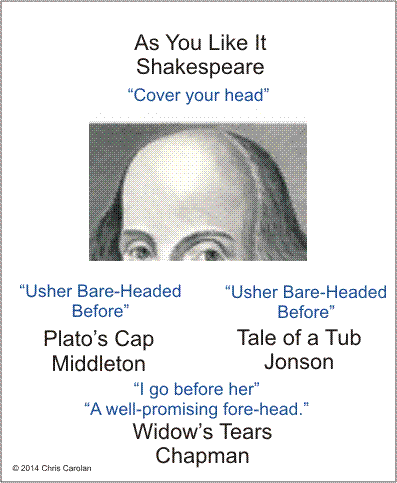 July 16, 2014 No Comments