,BVT PAGE, TO SERVE
The emerging hypothesis of this blog is that William Shakspere of Stratford was the servant, favorite, and right-hand-man, of the true author of the plays and poems.  How this hypothesis might shed light on aspects of the Shakespeare question is something I'll look at from time to time.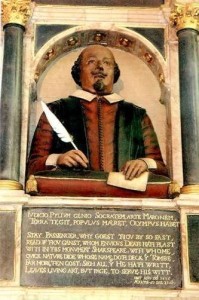 click to enlarge
The Stratford monument has been the subject of much speculation and mystery.  The inscription beneath the sculpture is a head-scratcher. In fact, wikipedia tells us that few Shakespeare biographers comment on the poem.
STAY PASSENGER, WHY GOEST THOV BY SO FAST?
   READ IF THOV CANST, WHOM ENVIOVS DEATH HATH PLAST
WITH IN THIS MONVMENT SHAKSPEARE: WITH WHOME,
QVICK NATVRE DIDE: WHOSE NAME, DOTH DECK YS TOMBE,
FAR MORE, THEN COST: SIEH ALL, YT HE HATH WRITT,
   LEAVES LIVING ART, BVT PAGE, TO SERVE HIS WITT.
  One of those few commentators is Stanley Wells in  Shakespeare For All Time. Wiki reprints Wells' analysis.
 "the only sense I can make out of the last bit is that his compositions relegate the sculptor's art to the rank of a mere page – with perhaps a forced pun on the writer's 'pages' – offering service to his genius; or perhaps that all art subsequent to Shakespeare's is a page – servant – to his."
Wells picks up on 'page' as a pun meaning both servant and the writer's 'pages.'  But who is the servant?  Wells thinks it is 'the sculptor's art.'   Of course, the sculptor's art in the monument is the bust of William Shakspere.  It's worth noting that this reading is the only sense Wells can make of that line.